Car wash business plan template.
"Here's the 'Perfect Solution' to getting your car wash location funded quickly…even if you don't have a clue on how to write a business plan and don't have the budget to pay a professional to do it!"
Did you know that a well-written and researched business plan is the key to getting funding for your car wash business?
But most entrepreneurs neglect this aspect of their startup.
That's usually because they are not knowledgeable enough to write a business plan on their own.
Or do not have the budget to pay a professional business plan writer.
If you have ever wanted to start a car wash and auto detail business and you need to write a business plan to get funding then our Hybrid DIY Business Plan Template is for you.
Our Hybrid Business Plan Template is a high quality thoroughly researched car wash business plan template that has examples for you to insert your own market and business specifics into.
Scroll down to learn more.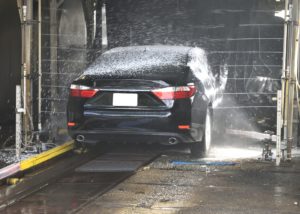 Use your completed business plan to:
Seek funding from banks or investors
Be more confident about your car wash and auto detail business
Plan ahead for any future issues that may arise
Express your car wash and auto detail business better
Be prepared when meeting a future potential investor
Executive Summary
The Enterprise
The Business Concept and Need
Industry/Market Overview
Growth Strategy and Implementation Summary
Management Plan
Risk Factors
Financial projections
Use of Proceeds
References
Why You Should Start a Car Wash and Auto Detail Business
It's time to stash away your soap and sponges and challenge your preconceptions of car washes as parking lot fundraisers. Opening your own car wash and auto detail business is a savvy way to provide a service in your community that is in almost-constant demand. Careful consideration of car wash plans and costs will have a line of shiny cars streaming from your business in no time.
Is a car wash a good investment?
Opening a car wash is an exciting venture. With the perfect location, quality services, and the right marketing, your car wash will serve clients who need their vehicles cleaned or detailed quickly and efficiently.
Don't let the initial car wash construction costs deter you. A quality car wash has the opportunity to establish a loyal base of returning customers.
Here are just a few reasons why you should consider starting your own car wash:
There is improving per capita disposable income for U.S. residents. This allows consumers to use more money on services like the car washes.
The number of cars used by U.S. residents is expected to increase steadily. This will increase the industry's client base.
The car care industry is continuing to grow faster than the overall economy. There is a lot of opportunity for added growth in the coming years. This is due to the increasing number of vehicles kept for longer periods of time and the increased average mileage driven by a car owner.
You can start earning money from the day your car wash opens thanks to minimal daily maintenance needs and an excellent return on investment.
The current state of the car wash industry: 
According to IBIS World, demand for the car wash and auto-detailing industry has an average revenue of around $11 billion nationwide and is expected to continue expanding over the next five years. Household consumers make the largest share of the car wash and auto detailing industry's revenue at 76 percent. Business consumers make up 22 percent of this revenue, and government consumers comprise the remaining 2 percent.
Ready to get started? View our sample car wash business plan documents and read our blog to learn how to start a car wash business.
This car wash business plan template will be delivered via digital download in fully editable Microsoft Word and includes car wash and auto detail pre-written example text, general industry research, general financials, example graphs and charts, references and narrative already completed for you.
Edit this business plan example for your local market and unique business qualities and you will end up with a far more distinctive and superior business plan at the fraction of the cost of a professional plan.
Red instructional text above each section is included to let you know what to insert in that section. In some areas, you can just add your information, in others you will need to use the example text as a basis to write your own business specifics. What sets you apart, your local market, your business team etc.
Example graphs and charts are also included for you to use as an example of what to insert in those areas for your market and location specifics.
This is a great D.I.Y. (Do-It-Yourself) realistic alternative to paying a high priced business plans writer. 
Add these extras as needed:
Car Wash Financial Template in Microsoft Excel (recommended) to calculate your finances. This excel template will allow you to enter financial data specific to your business and will produce proforma financial statements for use in your business plan. The worksheets (Set-up, Start-up, Sales, Headcount, Inventory, Operating Expenses, Capital Budget, Equity & Debt, and Amortization Schedule) contain instructions, questions for you to answer, and boxes (cells) for data entry. Cells in which you are to answer questions or enter data are yellow. Purple cells contain formulas that will be calculated automatically.
Car Wash Funding Package includes a Microsoft PowerPoint transition slideshow template "Pitch Deck" to show lenders and investors your concept at a glance. It includes 12 slide car wash images with instructional text for you to insert your specific business information into. This funding package also includes 51 raising capital documents covering topics such as Loans and Borrowing Documents, Investment Analysis Summary, Bank Loan Request Sheet, Loan Application Review Form, Loan Calculator, Pledge of Shares of Stock and more to help you with the paperwork prior to seeking funding.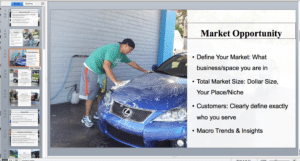 This is NOT a "turn-key" fill in the blanks plan. You will need to put in work to make it effective for your needs. Use this car wash business plan as a foundation/base to write your own plan upon.
This business plan template has been researched and custom written for the car wash industry and has never been published to the public.
I am honest about what I am offering. No Gimmicks and No Promising that it will be Easy. You will receive a 35+ page car wash and auto detail editable business plan template in Microsoft Word for you to edit for your needs. If you are willing to put in the work to edit this plan you will end up with something far more unique and effective.
The best part about of our business plan template is that the TIME-CONSUMING parts are DONE for YOU.
Our Hybrid Fusion Business Plan Template saves you time as most portions are already completed for you to edit or to use as examples such as the narrative, industry research, formatting and general financials.
But I don't want to sell you on EASY.
I want to make sure you obtain a well-researched industry-specific car wash business plan template that you are able to build a realistic and truly investor-friendly business plan upon.
With our business plan template you will need to put in work but in the end, you will have something extensive, unique as well as researched to set you apart from the competition when applying for funding.
Do-it-yourself and not only save, but learn more about your business as well.
Here is just what some of our customers are saying about this Car Wash and Auto Detail Business Plan Editable Example:
If interested we do offer fully customized business plans starting at $1,850 feel free to message us regarding these fully custom written plans.
PLEASE NOTE THAT THIS PRODUCT IS NOT A TURN-KEY SOLUTION, BUT AN EDITABLE TEMPLATE THAT IS MEANT TO SERVE AS A FOUNDATION/BASIS ON WHICH YOU CAN DEVELOP YOUR OWN PROFESSIONAL CAR WASH AND AUTO DETAIL BUSINESS PLAN WITH SOME EFFORT.

Purchase with confidence. 30 Day Money Back Guarantee if you are able to find a more comprehensive 35+ page car wash and auto detail business plan template for a lower price I will refund your money. Click here for terms and conditions.
The best time to order is now. Order here:
Disclaimers (Please read prior to purchase)
-This is an editable example business plan template, which is in between a business plan template and sample. This is NOT a complete Turn-key business plan. Modify and use this Hybrid business plan template as a foundation to create your own plan. See sample pages to see exactly what you will be receiving. 
-We are unable to make any changes to this plan or excel sheet or pitch deck or documents for you.
-By purchasing these documents you agree not to resell, copyright or post them online.
-Digital Download for Microsoft Office XP 10.0 in Windows XP and higher versions.
-Will also open in Microsoft Office for Mac, however, some formatting issues may be present and will need to be corrected. For this reason we unable to guarantee 100% direct compatibility with Microsoft Office for Mac.
-This is a large Microsoft Word file. Please keep in mind that we are not responsible if your computer processor is unable to render them quickly. We have tested these files on multiple MACs and PCs and they render fine on our end. However, we are unable to account or guarantee how the files will perform on your end due to various extensions and operating system performance. Although rare, if you are having rendering issues you may need to attempt to open and work on the Microsoft Word files on an alternative, newer or faster computer.
The best time to start is now. Purchase with confidence. SSL Secured Checkout and 30 Day Money Back Guarantee if you are able to find a more comprehensive and up to date plan and funding package combination for a lower price point.*
*Click here for Money Back Guarantee terms and conditions,
is a car wash a good investment opening a car wash sample car wash business plan turnkey car wash systems prices car wash plans and cost hand car wash business plan mobile car wash business plan is a car wash a good investment car wash design standards turnkey car wash systems prices how to start a car wash business car wash construction costs car wash building plans car wash business plan