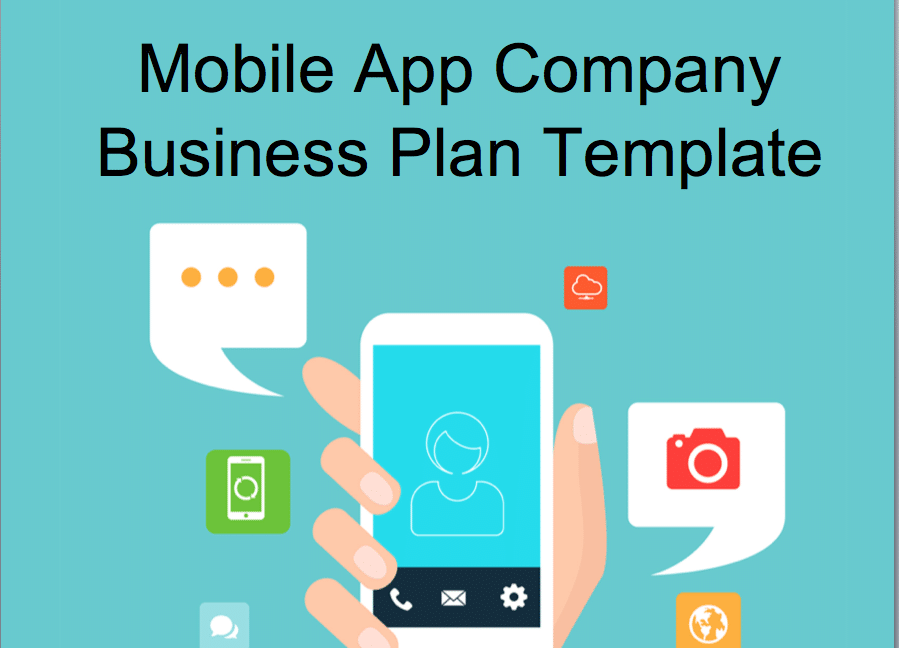 "Here's how to get your Slice of
the Billion Dollar Mobile app pie…"
*This business plan template is for someone seeking to create a mobile app and present it to investors. It is NOT a business plan to create apps for others as a business.
Hi,
Did you know that the size of the mobile app market is now estimated to be worth a whopping $77 BILLION?
And if you could get your foot in the door, I think you'd be set for life.
Bottom line:
Developing your own mobile apps is one of the best ways to make money online today.
If you've got a killer app idea, let me tell you something…NOW is the time to launch it.
(Before the market gets too oversaturated.)
And guess what?
You don't have to dream up the next hit game or app that gets a million downloads.
Nope, as long as you sell few thousand copies of a subscription-based app, you'll be able to live comfortably. And the funny thing about this business is that you don't even have to create the apps yourself.
You can develop apps even if you don't know how to program or develop software…
…even if you don't know how to turn on a computer!
How?
You simply outsource the work to other people and skim profit off the top.
Even better, you don't have to sell your app outright, you can license it to a development house, and they'll do the hard work of marketing, while you sit back and count your profits, month after month.
But before you can do all that, you're going to need a business plan.
That's where black box template comes in: Our mobile app business plan template is specifically written for this market, and contains the following sections…
Executive summary.
The enterprise.
The business concept and need.
Industry / market overview.
Growth strategy and implementation summary.
Management plan.
Risk factors.
Financial projections.
Use of proceeds.
References
Writing a business plan that is comprehensive AND effective to obtain funding can be very hard. They're research intensive and time-consuming to complete, and most business plan "templates" currently available out there can actually hurt your chances of funding because they fail to take into consideration key investment factors.
Black Box Business Plans has addressed these issues to make the process of creating an effective mobile app business plan easier. Obtain a pre-researched, pre-formatted professional 35+ page mobile app business plan template with Red instructional text and example graphs and charts in a fully editable Microsoft Word document.
Use this mobile app business plan template as a foundation to create a truly professional plan at a very affordable price.
Key features and highlights:
Specifically written for the mobile app industry
Digital download in editable Microsoft Office format. Microsoft Word.
Red instructional text provided to help you understand each section
Formatted layout for investor and lender use
References provided at the end of the plan
Example graphs and charts included to base your own upon
A full narrative is written specifically for the mobile app industry
Base 3 year industry financials provided at the end of the plan
Written and formatted in a persuasive away to show investors the true potential of your venture.
Hybrid Fusion Cross between a business plan sample and template to make customization more realistic.
Extremely affordable business tools available as add-on options
One time purchase. No monthly or recurring fees.
Select these custom add-on options to further increase your chances of funding.
Mobile App Financial Template in Microsoft Excel (highly recommended) to calculate your finances. Investors love numbers and this excel template will allow you to enter financial data specific to your business to produce proforma financial statements for use in your business plan. These Excel worksheets (Set-up, Start-up, Sales, Headcount, Inventory, Operating Expenses, Capital Budget, Equity & Debt, and Amortization Schedule) contain instructions, questions for you to answer, and boxes (cells) for data entry. Cells in which you are to answer questions or enter data are yellow. Purple cells contain formulas that will be calculated automatically.
Mobile App Funding Package. (A must have if actively seeking investment) Includes a Microsoft PowerPoint slideshow template "Pitch Deck" to show lenders and investors your concept at a glance. It includes 12 slide mobile app images with instructional text for you to insert your specific business information into.
This funding package also includes the Funding eBook bundle to educate you on your funding options and how to best present your business concept. These 4 eBooks guide you through individual interventions, second-party arrangements, corporate funding options, government interventions, managing business cash-flow, quick start funding overview, exit strategy, common mistakes to avoid when pitching your concept and much more.
Business Startup and Raising Capital Documents Bundle. 115 documents. (Investors want to know you are prepared. Show them you are with these professional business documents.) This 3 pack of business documents covering business assessment, startup and raising capital topics includes documents such as: Business Plan Guidelines, Strategic Planning Checklist, Trend Analysis Checklist, Executive Summary Template, Market Study Outline, Business Analysis Worksheet, Board of Directors Documents, Confidentiality Agreements, General Administration, Basic Financial Checklist and much more 115 documents in total.
You only have one chance to make a great first impression. When handing over your business plan to your investor make sure it stands out by using our mobile app business plan template. 
See what our customers are saying:

And if you order now we'll throw in this helpful bonus… 
Order today and you'll also receive our Finance and Accounting Documents. Vital documents for your finance and accounting business needs. Includes buying and selling of shares, financial statements, government grant programs, insurance, investments, investors relations, invoices and billing, loans and borrowing and much more. Limited time offer.
30 DAY MONEY BACK GUARANTEE
I am so confident that this is the most comprehensive mobile app offering out there that if you are able to find a more comprehensive mobile app business plan package that includes a 35+ page business plan template and matching Excel worksheet for a lower price I will refund your money. Click here for terms and conditions.
Armed with this plan you'll have investors begging you to take their money.
The best part about this mobile app business is that it runs on technology. There's no need to invest in expensive machinery or equipment (Or even an office) like you have to with other businesses…especially if you outsource everything.
What this means is that, you don't even need that much money to get started.  
As long as you have this business plan template, and can sell investors on your killer app idea, you're almost guaranteed to get the funding you need.
And if you're ready to become the next app tycoon then hit the add to cart button, and let's get started!
PLEASE NOTE THAT THIS PRODUCT IS NOT A "TURN-KEY" SOLUTION, BUT AN EDITABLE TEMPLATE THAT IS MEANT TO SERVE AS A FOUNDATION/BASIS ON WHICH YOU CAN DEVELOP YOUR OWN PROFESSIONAL MOBILE APP BUSINESS PLAN WITH SOME EFFORT.
Choose the options that best work for you. SSL Secured Checkout via PayPal or Credit Card. Your future mobile app customers are waiting. Order now below.
DISCLAIMERS. (please read prior to purchase)
-This is an editable example business plan template, which is in between a business plan template and sample. This is NOT a complete Turn-key business plan. Modify and use this Hybrid business plan template as a foundation to create your own plan. See sample pages to see exactly what you will be receiving.
-We are unable to make any changes to this plan or excel sheet or pitch deck or documents for you.
-By purchasing these documents you agree not to resell, copyright or post them online.
-Digital Download for Microsoft Office XP 10.0 in Windows XP and higher versions.
-Will also open in Microsoft Office for Mac, however, some formatting issues may be present and will need to be corrected. For this reason we unable to guarantee 100% direct compatibility with Microsoft Office for Mac.
-This is a large Microsoft Word file. Please keep in mind that we are not responsible if your computer processor is unable to render them quickly. We have tested these files on multiple MACs and PCs and they render fine on our end. However, we are unable to account or guarantee how the files will perform on your end due to various extensions and operating system performance. Although rare, if you are having rendering issues you may need to attempt to open and work on the Microsoft Word files on an alternative, newer or faster computer.
The best time to start is now. Purchase with confidence. SSL Secured Checkout and 30 Day Money Back Guarantee if you are able to find a more comprehensive and up to date plan and funding package combination for a lower price point.*
Thanks for scrolling down to the bottom of this page! Whether you purchase from us or not I wish you much success in your mobile app venture! 🙂
mobile app business plan sample mobile app business plan pdf mobile app business plan doc business plan for mobile app concept mobile app business plan ppt best business plans pdf startup business plan sample pdf completed business plan examples mobile app business plan pdf business plan for mobile app concept pdf mobile app business plan doc mobile app business plan ppt app development business plan example mobile application business proposal